Makma Caribbean 36 MK2
Experiencing freedom as it is meant to be
Dimensions
10,50 m x 3,45 m
Cabin sloop
sleeps up to 4
Makma Caribbean 36 MK2
from € 209.000,-
Experiencing freedom as it is meant to be
The Makma Caribbean 36; a cabin sloop with plenty of character and looks. A stylish combination between a spacious open sloop and a cabin boat. The fully expanded cabin sloop comes standard with a generous double bed in the front of the tip, a lockable toilet and a spacious round seating area both inside and outside.
Stylish and luxurious design
The Makma Caribbean 36 is a style icon on the water. The clinker-lined hull and robust cable fender give the cabin sloop a beautiful appearance. Combined with the stainless steel details, teak finish and beautiful lines, you will stand out from all the others. At the back of the Caribbean you will find the integrated swimming platform, made of stainless steel inlaid with wooden block grating. Thanks to the rear steps, you can easily climb back on board from the swimming platform after a refreshing dive.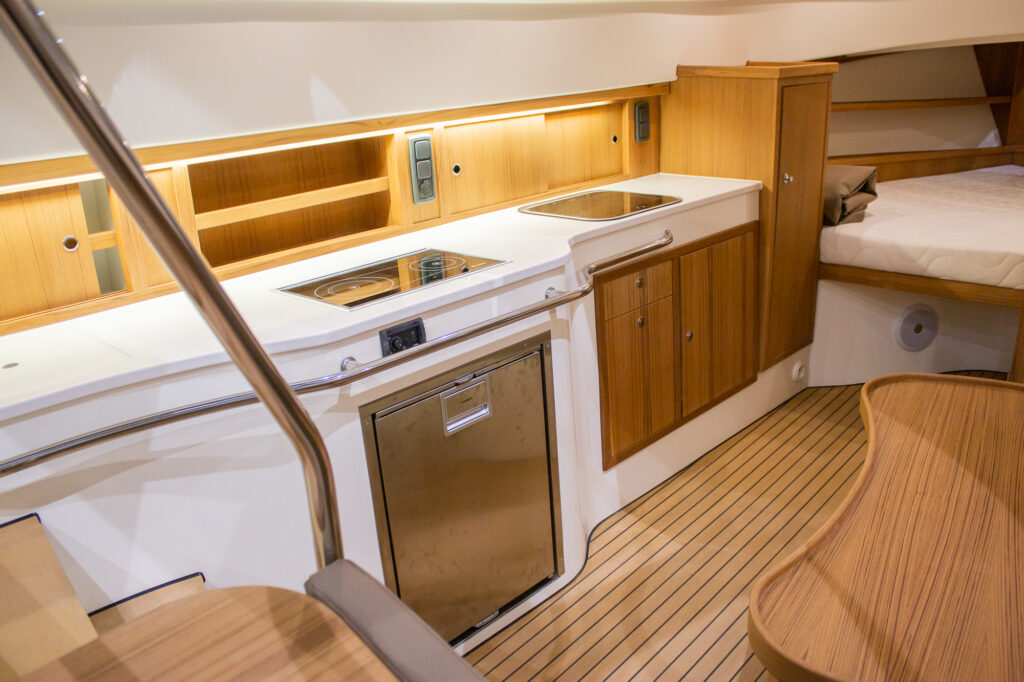 Makma Caribbean; Luxury cabin sloop
A cabin sloop with character and appearance. The Caribbean 36 is equipped with all conveniences; a spacious fixed double bed and the possibility for two extra sleeping accommodation. A spacious galley with cooker, sink and refrigerator. In addition, this extensive cabin sloop has a spacious wet room with toilet and shower facilities. The luxury of a cabin boat, but with the free feeling of sailing in the open air.
Open sloop
Thanks to the open deck you will experience ultimate freedom while sailing. By means of the clear instrument panel you can see at a glance what you need to know for pleasant sailing. The easy-to-use sun hood and bimini allow you to take to the water in any weather. The size and width of the sloop makes for very stable sailing, even at higher speeds.
Specifications Makma Caribbean 36 MK2
See all the specifications of the Caribbean 36 below
Algemeen

Length cabin sloop

10,50 m

Draught cabin sloop

approx. 1,06 m

Clearance height cabin sloop

approx. 1,70 m

CE Category

C-Coastal waters

Standard motorisation

Yanmar 110 hp 4 cilinder commonrail turbo diesel
Constructie

Polyester fast sailing hull

Polyester deck with anti-slip

Fuel tank: approx 2 x 150 litre

Clear water tank: 2 x approx. 110 litre

Waste holdingtank: approx. 110 litre

Strengthened polyester engine bed
Romp

Rope fender 100 mm including large bow fender (hand knitted)

Antifouling (2-layers) with polyester primer

Choice of waterline colours

Standard hull colours RAL 9010 (pure white) and RAL 1013 (off white

Stainless stern strip with flagpole holder

2 stainless steel steps with teak synthetic finish

Stainless steel bow protection strip
Dek

Canopy "type sport sprayhood" with folding front frame and sloping rear section

Solid mahogany deck rails (varnished)

Stainless steel bollards (4)

Stainless steel bollards (4)

Stainless steel railing on deck trims

Stainless steel roof railing

Classic wooden flagpole (curved)

LED white navigation light with 360° radius, removeable

LED starboard light and port light and stern light

Stainless steel folding portholes including flyscreens (2)

Ventilation hatch in cabin including flyscreen

Stainless steel watertank fitting, fueltank fitting and waste tankfitting

Stainless steel divider rail between cockpit an dinette

Synthetic teak trim around the deck

Standard deck colours RAL 9010 (white) and RAL 1013 (off white)
Kuip

U-shaped ergonomic shaped benches

Luxurious back and seat cushion set

3 spacious storage boxes under the benches

Polyester engine hatch with anti slip
Stuurconsole

Polyester steering position finished with synthetic teak

Joystickswitch for bow thruster

Polyester steering position with teak/stainless steel 70 cm Ø 6-spokes steering wheel

Rec counter , engine hour, Volt-, oil pressure meter

Fueltank indicator and clear water indicatior
Zithoek

LED lighting spots with switch

Storage boxes under the seats

Luxurious back and seat cushion set
Kombuis

LG HiMacs® "Nordic White" counter top

Stainless steel railing along the worktop

Stainless steel railing at entrance

2-burner cooktop with cover plate

Fresh water installation including pressure system with sink and tap

Hot water boiler 25 litres

Refrigerator (compressor) in stainless steel frame

Kitchen cabinets above countertop

Kitchen cabinet below countertop with cutlery drawer

Wall socket 12 volt and 220 volt
Slaapruimte

Infinity Texture Plus flooring

Bed with cushions for 2 sleeping places

Cabinets with door above the bed

Storage boxes under the bedB

Wall socket 12 volts and USB
natte cel

Electric pumptoilet with waste holdingtank

Stainless steel sink finished with LG HiMacs® "Nordic White"

Toilet cabinet with door (2)

Wall socket 12 volt and 220 volt

LED lighting spots with switch
Elektra

Immobalizers/ main switches (2)

Extensive electrical installation

15 metre shore power cable

Extensive electrical installation and battery diode (automatic switch)
Aandrijving

110 hp Yanmar commonrail 4-cilinder turbo diese

Fuel tanks 2 x approx. 150 litre

Water-lubricated propshaft
Veiligheid

Manual pump with suction point in the bilge

Weed filter / coarse water filter

Emergency rudder installation

Wide gangways with anti-slip

Automatic fire extinguishing system in engine compartment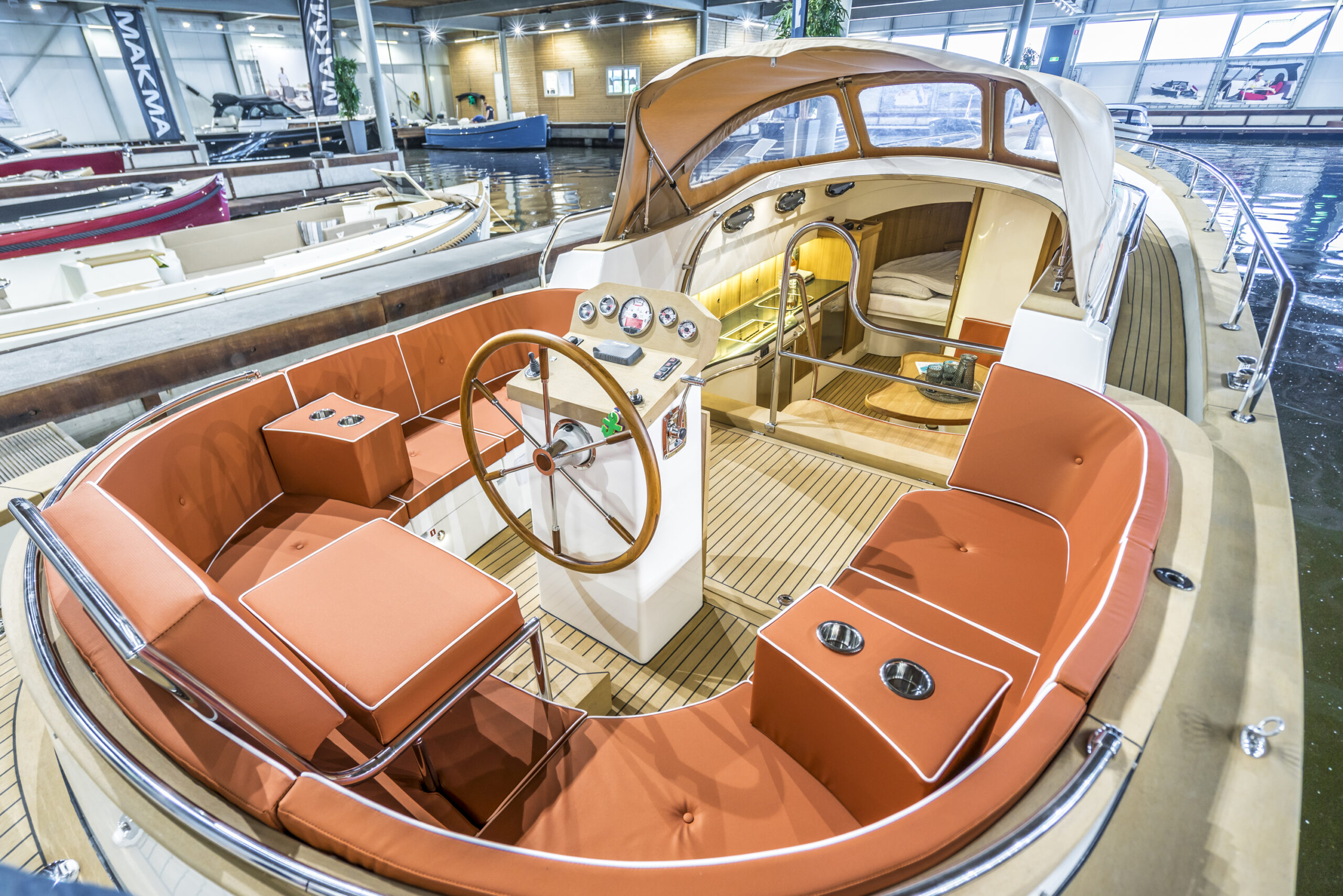 View the Makma Caribbean 36 MK3 in 360°
Take a digital look at this impressive sloop and 'walk' through the boat.
Downloads
View or download the Makma Caribbean 36 brochure:
Discover all models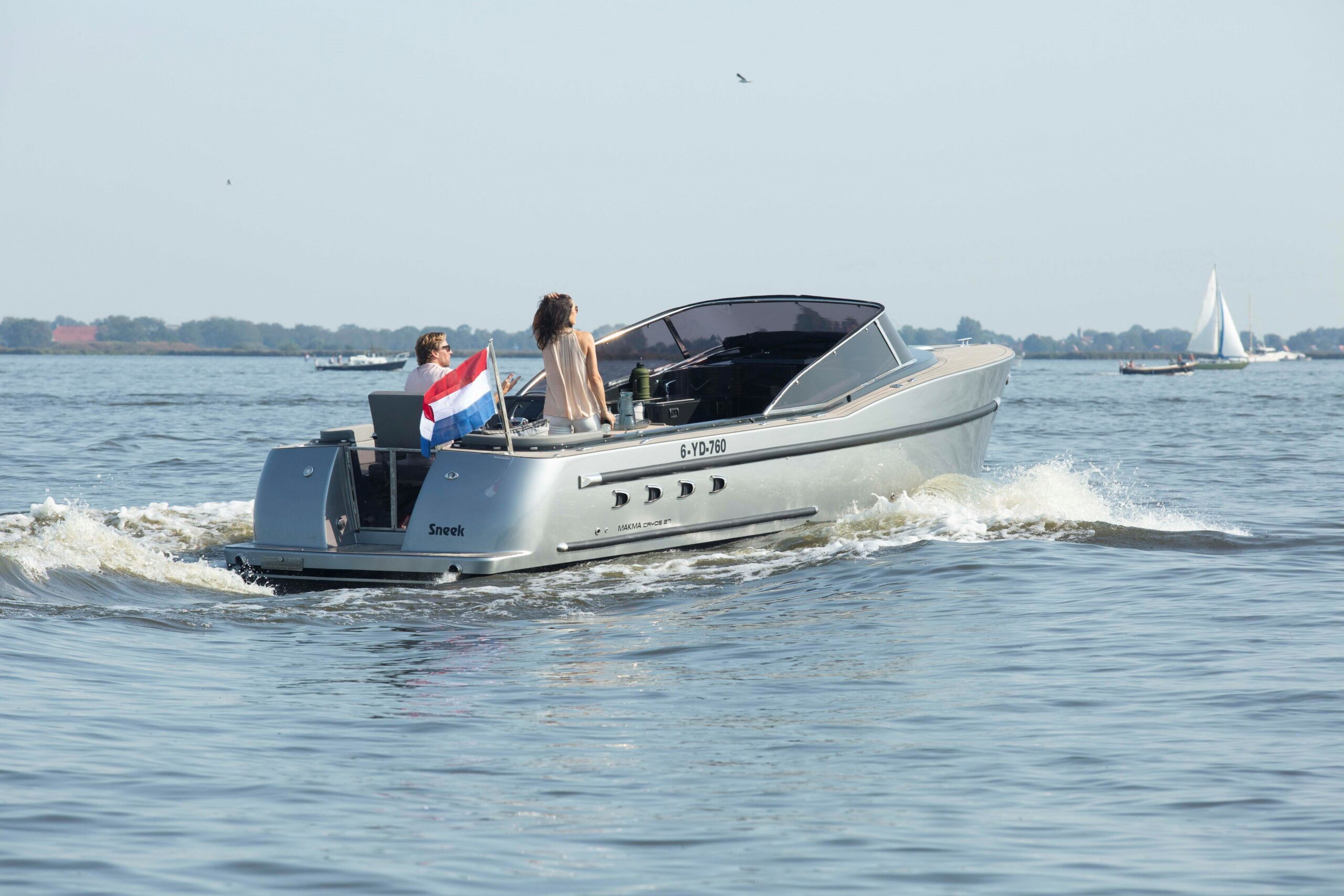 Makma Cayos 27
| | |
| --- | --- |
| Length | 8,25 m |
| Width | 2,75 m |
| Draught | approx. 0,80 m |
| Clearance height | approx. 1,20 m |
| CE-category | C-Coastal waters |
| Number of people | 10 |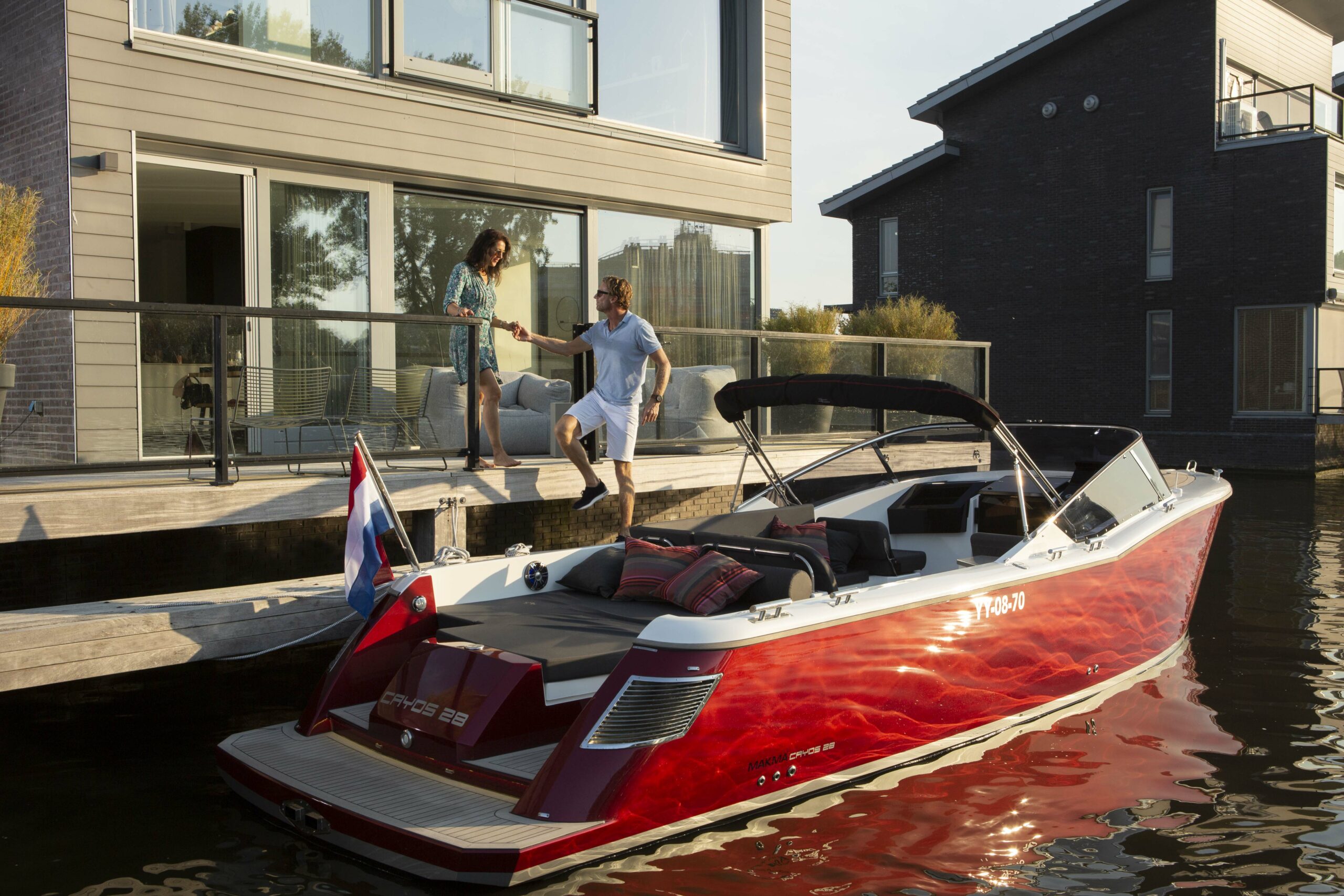 Makma Cayos 28
| | |
| --- | --- |
| Length | 8,55 m |
| Width | 2,75 m |
| Draught | approx. 0,80 m |
| Clearance height | approx. 1,30 m |
| CE-category | C-Coastal waters |
| Number of people | 10 |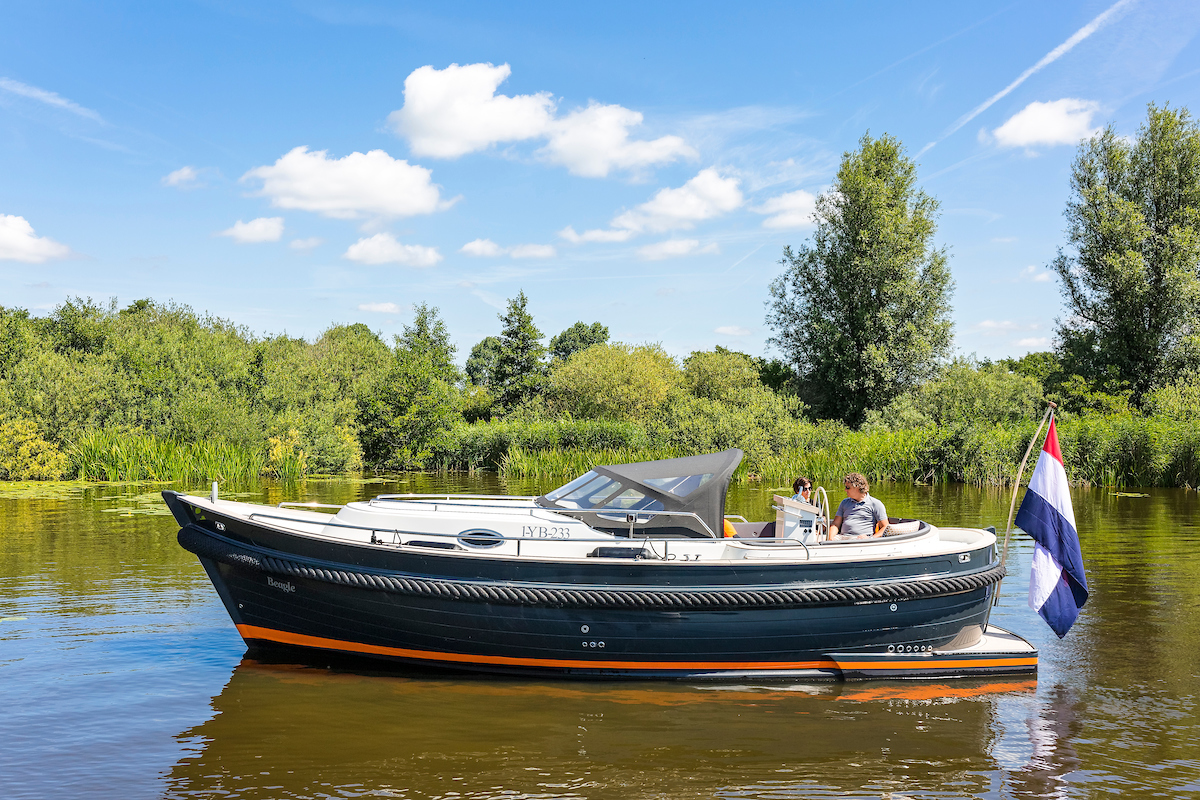 Makma Caribbean 31
| | |
| --- | --- |
| Length | 9,00 m |
| Width | 3,35 m |
| Draught | approx. 0,90 m |
| Clearance height | approx. 1,60 m |
| CE-category | C-Coastal waters |
| Number of people | 6 |
Makma Caribbean 36
| | |
| --- | --- |
| Length | 10,50 m |
| Width | 3,45 m |
| Draught | approx. 1,06 m |
| Clearance height | approx. 1,70 m |
| CE-category | C-Coastal waters |
| Number of people | 10 |